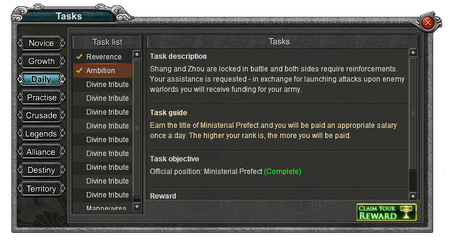 Tasks are "optional" assignments that give rewards upon completion. While the game can be played without completing any tasks, it significantly speeds up development by giving players an advantage in the game.
The Task button can be found at the top right hand corner of the screen, next to the Rank button.
Rewards for completed tasks are not given until the "Claim Your Reward" button is used. Thus, it is essential to players to check the interface often to make sure they have collected the rewards.
Novice tasks
Edit
Novice tasks act as a tutorial to the game, and aid players by introducing the mechanics of the game:
Growth tasks
Edit
Growth tasks are related to the development of the city (i.e. resources, army, etc.):
Daily tasks
Edit
Daily tasks are repeatable tasks which appear once per day:
Practise tasks
Edit
Crusade tasks
Edit
Legends tasks
Edit
Alliance tasks
Edit
Alliance tasks require a player to be a member of an alliance:
Destiny tasks
Edit
Destiny tasks are related to exchanging lower-level jewellery for higher-level jewellery, and to exchanging rare tokens found while invading wildlands.
Territory tasks
Edit
Territory tasks require a player to own a captured territory (or a slave). This is done by occupying another player's city provided, having at least Palace level with the other player's Palace with at least level 10. It is also required that the dissent is at 50 or above.